Real Talk with Dre Pao – Tiger and Bloom (Tiger Rose & Rikki Bloom)
Presented by: Greater Hamilton Musician
February 9, 2017
HAMILTON, ON — Formed in 2015, Tiger and Bloom fuse electro-rock with anthem-pop to create their own unique and edgy sound. Tiger Rose (vocals, guitar, and drums) and Rikki Bloom (vocals, piano, synth) have an extensive musical background and have both enjoyed solo success before forming their pop duo. The duet is no stranger to the industry; their debut EP, 'Hearts on Fire', was produced by Grammy award-winning producer Brian West (Nelly Furtado, Maroon 5, and Sia), in collaboration with Brian Howes (Nickelback, Daughtry, Mother Mother), and co-producer Kevin Dietz (Billy Talent, Barenaked Ladies, Alexisonfire). The pop duo is currently working towards the international release of their EP and their supporting cross-country tour.
"Success isn't a monetary thing, it's not a fame thing… It comes down to happiness, being happy with where you are, and constantly being inspired every day." – Rikki Bloom
Tiger and Bloom describe how their mutual love for "the journey" brought them together and therefore made the music creation process very naturally. Rikki Bloom explains that "Tiger and Bloom was the point where we both fell in love with just purely writing music again…We both really just wanted to love what we were doing, enjoy the process, enjoy writing and creating." When explaining their songwriting process, Bloom touched upon the fact that their original vision for a song is often nowhere near where the end product turns out to be. Both singers describe the importance of working together, vibing off of one another, and not being limited in the creation process. Bloom continues by explaining that "every writing session there's just such an excitement in the room where we're motivated and excited by each other…Tiger and Bloom really allowed for us to challenge each other without having ego being the driving force."
Rikki Bloom enjoyed a successful YouTube career prior to joining the pop duo. Under the name Heather Janssen, Bloom accumulated over 60 videos, over 34,000 subscribers, and thousands of views. She admits that originally she never would have envisioned herself transitioning into a duo with such an eccentric and unique individual such as Tiger Rose. However, she admits that the transition just 'felt right' and was a definite necessary next step in her evolution as an artist. It is clear to see that both artists have a mutual respect for the talent of one another and both feed off of each other's energy.
Keep up to date with the latest news on Tiger and Bloom and listen to their debut EP "Hearts on Fire" by visiting www.tigerandbloom.com!
Listen to the full interview with Tiger and Bloom below for an in depth look at what Ontario's most unique pop-duo have to offer.
---
About the Author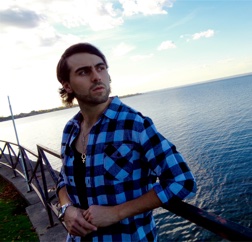 Dre Pao is a Canadian artist, born in Hamilton, Ontario, that specializes in songwriting. Dre's career was launched in 2012 by Spanish artist Xuso Jones, who was previously signed with Universal Music. Dre is best known for his work behind the scenes in the music industry and has worked with some of the top artists and publishers in music. Dre recently signed on to write for the Greater Hamilton Musician! Dre Pao will be attending a number of events that are exclusive to Canadian songwriters and music publishers in 2017 and sharing his experiences with us! Dre will also be conducting interviews and features on independent and signed artists that will be featured on HamiltonMusician.com! More tips and tricks to help assist Hamilton artists coming soon!
http://www.drepaomusic.com/