Read the CBC Hamilton article here.
Last week Hamilton City Council approved a policy that will guarantee fair payment for musicians who are hired to perform at city-run events. The motion passed with a resounding 11-2 majority.
Here is the entire content of the motion.
"That staff be directed to report back to the General Issues Committee on the establishment of City guidelines and/or a policy establishing a practice of payment for musicians, based on the most current fees recommended by the Canadian Federation for Musicians, represented locally by the Hamilton Musicians Guild Local 293 for City-hosted and City-funded events."
The remarkable spin-off from this is that the City is effectively raising the bar for any local event organizers, such as BIAs, music festivals – remember Supercrawl? – or others like Binbrook Fall Fair, Rockton World's Fair, Dundas Cactus Festivals, and so on.
Two councillors, Johnson and Partridge, tried to play the opposition card by arguing that these independent festival operators, who work under tight budgets and are supposedly constrained by limited grant monies and partnerships, would be negatively affected by having to pay musicians more. Brenda Johnson, councillor for Ward 11 (Hannon-Binbrook) said, "They might only hire a single musician instead of hiring five or six."
"Hamilton Tourism director Carrie Brooks-Joiner notably responded in support of the motion, "Their budget is their decision," she said of the smaller events. "Our recommendation to these groups is that they recognize the talent they are acquiring and pay accordingly."
The motion formalizes what has already been happening, according to Brooks-Joiner. She said the pay scale is already in place for city hirings; this would simply formalize it. For example, this practice was applied when local musicians were hired for a marginally successful series of local artist showcases called Music Mondays, which took place on the steps of City Hall during summer months of 2018 and 2019. (I will digress. The criticism, mostly anecdotal, around the Music Monday events was not the pay scale. Hallelujahs for the fair pay! The problems were technical issues related to sound equipment, power, sound quality, lack of an actual stage or sound shell, and lack of shelter from sun or rain for the performers. There were also bigger picture issues such as visual distractions and having to compete with traffic noise from a four lane truck route aka Main Street. Can we now agree on raising the bar another notch? That is to say, the experience of a creating a successful outdoor show is not simply paying a musician fairly. An outdoor showcase budget must include all aspects of production. End rant.)
Going forward, the passing of this motion sends a clear message that musicians are professionals and they are worth being paid as such.
Is our Council demonstrating an uncommon level of perception, that by making sure you hire the best professional talent to entertain the masses, your events will be more likely to succeed?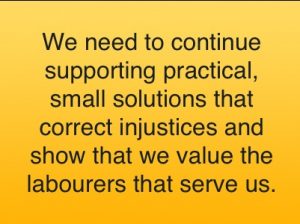 Let us hope so. We need a principled and determined approach from our Council that tackles these big issues of wage inequity methodically and consistently. We need to continue supporting practical solutions that correct injustices and show that we value the labourers that serve us.
The motion was a recommendation from the mayor's Covid19 Economic Recovery Task Force. Musicians have been hit hard by the pandemic like all so many others in the gig economy. This motion's musician-centred purpose gave Council a clear path to support a specific group of skilled labour.
How did this motion gain favour when many citizens have no appetite for this kind of "favouritism" where artists get free handouts?
Musicians find it a struggle to be perceived as professionals at the best of times; they fight against the commonly held idea that musicians are just happy hobbyists who have other "real" jobs to support themselves.
I conclude that this motion succeeded because of the strategy of working as a collective. The Hamilton Musicians Guild has consistently pursued its mandate of achieving real gains for musicians who have stepped forward to participate in the collective. These are players who consider themselves professional musicians (there is no audition to join the Musicians Guild). They have seen the value of collectivism, and have stood up to be counted by joining the local musicians Guild. The Guild is always advocating for wage improvement and better working conditions. The leadership know who they are mandated to serve.
Providing real support in this difficult economic climate has been challenging. Pessimism can take over.
Even during good times there's always going to be someone crying the blues that things are perfect yet.
The reality is that many musicians simply have not been able to afford the basics that would otherwise have been provided through their performance and attendance at live sessions. Covid19 shut down the entire live music industry. You're not allowed to sing indoors for pete's sake.
People can't dance, let alone sit near each other.
This motion achieved support because it was presented in a clear context and supported by past good practice, presentation of accurate and focused information. Council has seen consistent and reasonable advocacy for the concept of fair pay for professional work from the Hamilton Musicians Guild as supported by the Hamilton Music Strategy and through the representation on the Hamilton Music Advisory Team.
The Hamilton Music Strategy has taken a wicked beating in recent years, but the strong parts of Hamilton's music industries are still in place.
This is a solid step forward for our music and arts community. Our creative industries have equal amounts of resilience and grit. We need to support their resilience. And we need to listen to their advocates and their collectives.
Is the political climate changing? I sure hope so. It has not been encouraging of late. In March 2020 a motion to bring all non-union, casual and part-time City employees up to a fair wage was voted down with a resounding 14 against vote. Only 4 voted in favour. Councillor Danko's comments on this are worth reading.
I hope our Councillors are sincerely trying to support all part-time labour as well as the music and creative industries. We will keep watching.