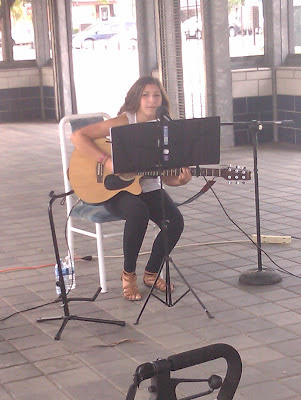 Jenna Aquino at Ferguson Station
Jenna Aquino, 14, is seated with her guitar on a white kitchen chair in the barest of settings: a guitar stand, a music stand, and a mike stand. Two wires snake across the floor to her guitar amp on the right and her home karaoke machine on the left.
There she sits, a smiling and joyful young teen who has decided to share her songs with us.
Jenna Aquino shares her music
How many fourteen-year-olds do you know who would be able to successfully audition for a public concert, negotiate a fair payment, put on a two hour show and smile through the whole thing? Jenna Aquino has done it.
Today she performed at Ferguson station for the International Village BIA's Music In The City.
"You just have to put yourself out there and do it," Aquino explained to a young man who was chatting with her during a break. The young man, a self-confessed singer, looked over at her microphone and found a sudden burst of courage from her example. He asked permission, sat down at the mic and shared an impromptu one minute song of his own. And not bad, either!
Unexpected scenes like this with surprisingly forthcoming locals are commonplace at these downtown shows. Musicians need to be ready for anything as people stop by to look, listen, chat and even take the microphone! Jenna had no worries because of her own easy-going nature, but also because of her many family and friends that were present to support her.
Father Reno Aquino, a local music teacher, says, "Jenna has been singing since the age of three. We knew she had something special, but since my wife and I were vocal instructors ourselves, we didn't want to be too pushy." When their music school, Joy Academy, folded recently, most of their students were handed over to Ray Lyell, http://www.raylyell.com where Jenna has continued to take lessons. Jenna say, "He really helps me write songs, and sometimes he'll show me new chords."
Last year Jenna participated in the Festival of Friends' "Festival Star" talent contest. Adjudicator Victoria Boland says, "Jenna showed remarkable maturity and a strong sense of composition in her songwriting ability during the Festival Star competition. That combined with her clear tone and resonant voice, if she continues down the path of making music her focus, she's well on her way to having a great career as a young singer-songwriter."
Jenna attended St. Paul Elementary School and now is starting grade ten at Saltfleet Secondary. She was in the choir at both schools. Her repertoire today included four original songs which she hopes to soon expand to about ten, "enough to put onto a CD."
Some of today's pieces were, The Only Exception by Hayley Williams, Never Too Late by Hedley, The Last Thing On Your Mind by Lights, and Hey Soul Sisterby Train.
Jenna's voice is flexible and she has a solid sense of pitch. While she admits that she's only been learning guitar for about two years, and relies on a capo placement to match her range, she can be confident in her strong sense of rhythm. She also has a knack for tasteful phrasing and embellishment. I'm sure that in time and with continued coaching her unique style will continue to expand.
It's encouraging to see a young, generous and gutsy artist like Jenna taking bold steps into the performing world.